As short-sighted and inconsiderate campaigns go, Coles has really outdone the pack this time.
I'm certain you've heard… but just in case here's the latest news flash and soon-to-be forgotten fad: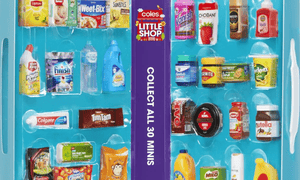 Coles Little Shop – a free toy in the form of miniature versions of 30 well-known household products that are given away with every shop over $30.
Not even a month after Coles redid-undid-overturned their plastic bag ban, this campaign has left a lot of people feeling so conflicted because well
"UGHH I REALLY WANT A TINY LITTLE JAR OF VEGEMITE BUT DAMN IT COULDN'T YOU HAVE MADE IT NOT IN PLASTIC?!?!?!?"
Earth-loving Australians, July 2018
Despite it's success thus far, i'd argue that this campaign is a total failure. Why?
Short-sighted gains that compromise consumer's core values result in long-term degrade.
70% of young adults are willing to spend more with brands that support their values. 
Soon, we'll all be over these mini groceries and they'll end up in the bin. Coles will have upped their sales for this brief fad phase, but they'll be left to pick up the pieces.
It's a shame, because the concept of the marketing campaign is solid and a more suitable execution is not hard to envision.
Imagine this – the same campaign but with RECYCLABLE mini groceries… it would be a campaign that touches on the nostalgic values of the mini collectables, whilst upholding modern values of sustainability and preservation.
Seems like an easy win, but somehow it was looked over. It can be easy to get misguided with short-sighted goals, so…
Here are some questions worth asking to help your marketing campaigns stay aligned with you & your consumers' core values
Where do our values as an organisation intersect with the values of our customers?
Where do our business opportunities intersect with a higher social purpose
Remember, authentic campaigns result in long-term gains.